Our Senior Reporting Actuary's journey to Bermuda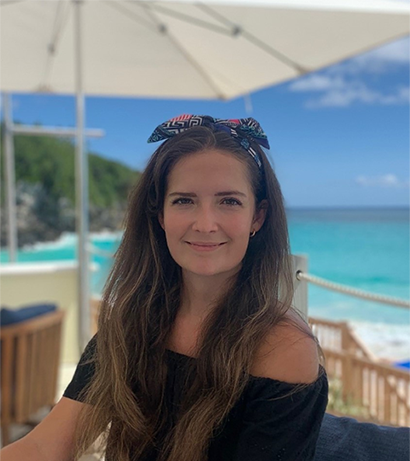 Our Senior Reporting Actuary's journey to Bermuda
My actuarial career began as a fresh-faced graduate at a pension's consultancy in London. Four years in, and around the time of qualifying as an actuary, I decided to make the leap to life insurance and to Legal & General, a career choice I haven't regretted.
I originally moved into the With Profits reporting team in Hove in the UK, which gave me my first taste of life working in the fast-paced life insurance market as well as the opportunity to move back to the coast – I'm a sea-lover! A year in, I was lucky enough to step up into the role of Financial Reporting Manager which brought with it plenty of new challenges and opportunities.
The day that the sale of the With Profits business was announced I was due to exchange on a house (terrible timing, I know!). I wasn't ready to leave Hove, and I definitely wasn't ready to leave Legal & General; my experience to date had been so enjoyable. Fortunately, I was able to land a role internally as Financial Reporting Actuary working for Legal & General's Reinsurance business. This was when I became fully aware of the growth opportunities within the company and the willingness of Legal & General to provide these opportunities for those that show an interest.
I was able to fit in a short trip to Bermuda to visit the rest of the team just ahead of the pandemic. I immediately fell in love with the country – the beautiful beaches, the outdoor lifestyle, the relaxed atmosphere, the welcoming people. On my first morning when staying in one of the Legal & General Reinsurance apartments just a two-minute walk from the office, I counted ten "hellos" and "good mornings" on my way in!
This small taster (despite it being a week of miserable weather!) was enough for my partner and I to take the plunge, pack our things and move to Bermuda in April 2021, taking on the role of Senior Reporting Actuary within Legal & General Reinsurance's Performance Team. After one year on the island, I can safely say my love for Bermuda has only grown!
I tend to spend my weekends outdoors, often trying new things – sailing, diving, golf, volleyball - for such a small island there are so many things to do. If this wasn't enough, it's also great from a career perspective. Despite its small size, Bermuda is a reinsurance hub – there are actuaries and accountants everywhere you look! Being part of a relatively small company has provided me with a huge variety of interesting work and meant I was immediately exposed to people from all levels within the organization.
One thing that has struck me during my time with Legal & General is the willingness to provide support and opportunities to those who are eager. It is inspiring to see some of Legal & General's most senior roles are those that have risen through the ranks. My experience to-date has shown me that, however senior they may be, people are more than happy to have a chat over coffee and have an open and honest career discussion. I really appreciate working for a company that cares this much about its employees and rewards enthusiasm and dedication.