Our first graduate employee, Sinae Smith talks about her experiences as part of our graduate programme
Meet Sinae Smith, an analyst at Legal & General Reinsurance who joined the team in September 2018 as our first graduate employee. Recruited through LinkedIn, her role was created in collaboration with CEO, Thomas Olunloyo, placing her on a rotational programme that would get her acquainted with all aspects of the business as she works to complete her actuarial exams. Her first stop was on the performance team, which Sinae described as "the perfect fit".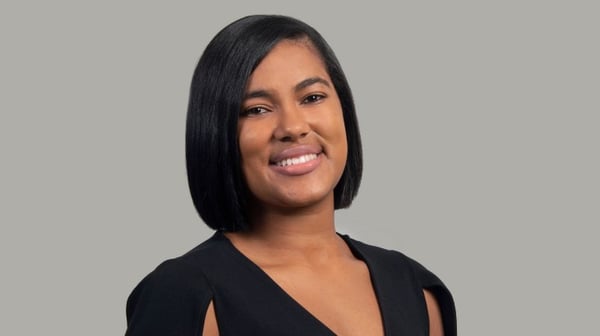 On L & G Re's graduate programme…
It was amazing. It definitely exceeded my expectations. The dynamic was an eye-opener for me in terms of the experience and exposure I get as an actuary. What I love most is that Thomas actually cares about what I am interested in. He was really in tune with my wants and that hasn't changed at all. I don't have one day where I'm doing the same thing. I love having the flexibility of being able to choose what projects I want to work on and getting exposed to everything. I'm never doing work I don't find interesting or don't enjoy.
On growth…
Having the one-on-ones throughout my journey – with my manager, my mentor, with Thomas – was very instrumental in my growth, my outlook and my personal development. I have spoken with various colleagues in trying to figure out what would be a good fit for me next. It ended up being in Investments because it's a good bridge to eventually go to Pricing. I wanted to move to a department where I was building on the knowledge I had gained. The actuaries at L&G Re have changed my perspective on what type of person an actuary is. It's super diverse and so fun. My colleagues have taught me more about Bermuda than I already knew. They really were trying to adopt the Bermudian culture as best they could and for me as a Bermudian that means a lot.
On purpose…
I have been part of the CSR team since I joined, and we get involved in so much within the community. With the Lighthouse Connect project, we raised money to purchase laptops for kids in the public school system. That is extremely heartfelt because I know for a fact that a lot of the public-school students don't have access to a computer or laptop outside of school. Some don't even have access to the internet. Many of us offer mentoring and tutoring in schools, to provide inside knowledge to students that don't have access to the business world. How we've still managed to be agile and think of others during the coronavirus pandemic has been amazing.
On responsibility…
I love being part of the CSR committee. We're really thinking about what we can do to make a serious, positive impact in Bermuda. For example, we launched time matching, so if you volunteer half a day of your time, the company will match or give $250 to that charity. This encourages individuals to address the initiatives that matter most or resonate with them. It's also a great way to be collaborative – a way to create a social gathering for a good cause.
On values…
I absolutely love the culture here. Culture is a priority, and it is constantly reinforced in our routines and our processes. Straightforward, purposeful and collaborative – those are our core values – they're not just words on a wall. To figure out how it works practically, we really dive deep into what our core purpose is and what our core values actually mean on a personal level.
On collaboration
One of my favourite things about the company is that, when I started, I had the freedom to define my role without a fixed job description. The fact that they promote personal development quite heavily is very important and I feel valued. Everybody has always had my best interests at heart and has always invested their time and answered my million questions. I couldn't have asked for a better company or better culture because, two years in, I still can honestly say that I absolutely love my job. The people and the culture are primarily to thank for that.