L&G Re's Lighthouse Connect delivers latest batch of laptops to students of The Berkeley Institute
Lighthouse Connect, an education-focused fund launched by Legal & General Reinsurance (L&G Re), is on track to deliver more than 230 laptops to Bermuda's public-school students this academic year. Machines that have not yet been handed over to students are either on order or fully funded.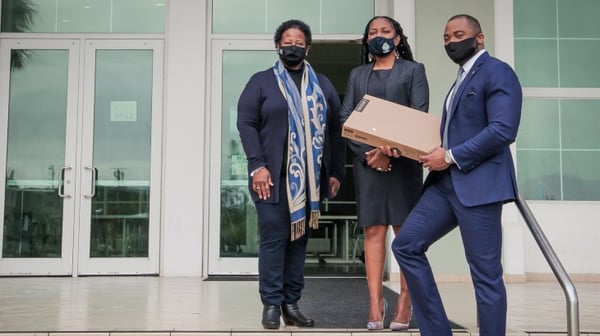 In the latest delivery, students of The Berkeley Institute received 20 laptops last week. Lighthouse Connect partnered with the Berkeley Parent Teacher Student Association (Berkeley PTSA) to supply the devices, after the school identified students in urgent need. The laptops were delivered days before the return to remote learning for students of the high school caused by an increase in Covid-19 cases.
Established by L&G Re last May, the Lighthouse Connect fund is hosted by the Bermuda Community Foundation and is run in partnership with the Mirrors Programme to raise funds to provide free laptops to all Bermuda public-school students to support their education through the pandemic and beyond.
L&G Re provided the initial funding for Lighthouse Connect, which purchases Ministry of Education approved laptops for public-school students. Procurement of the laptops occurs in stages as funds are raised and laptops are distributed in order of need, a process managed by the Mirrors Programme.
Thomas Olunloyo, Chief Executive Officer of L&G Re, and Kimberley Jackson, Mirrors Programme Manager, handed over the laptops to Keisha Douglas, Principal of The Berkeley Institute who was joined by Andreaz Glasgow, Head Boy and fellow students Seth Hardtman and Zayne Sinclair representing the student body.
Lighthouse Connect addresses the increased need for digital learning tools during the Covid-19 pandemic, while also contributing to the long-term learning of Bermuda public school students. The initiative allows companies and individuals to contribute to the purchase of technology resources in a coordinated and cohesive manner, providing equipment suitable for schools.